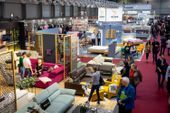 At the set of fairs of housing: FOR HABITAT, DESIGN SHAKER, FOR GARDEN, FOR INTERIOR, , LIGHT IN THE ARCHITECTURE were awarded the TOP EXPO and GRAND PRIX.
TOP EXPO
In the competion for the most impressive exhibition, which is at the same time also highly functional and meets criteria for communication with the customers was awarded such as winner the company LIVING GLOBAL INTERIO s.r.o.
GRAND PRIX
In the competion for the best exhibit traditionally registers an enormous interest of exhibitors.
Presentation of exhibits before the Expert Jury took place directly at the exhibitor´s stands on the first day of the rtrade fair, and after careful studying of the accompayinig documentation the Jury decided to grant the main awards to three exhibits and Honourable Mentions to one other exhibit.
Grand prix awards of the FOR INTERIOR trade fair 2019 (spring edition)
1st place
Company name: Kaplan nábytek s.r.o.
* Workbench with rotating half-armchair Gatta Vorta
2nd place
Company name: : Kaplan nábytek s.r.o.
*Chaise lounge
3rd place
Company name: : JELÍNEK – výroba nábytku s.r.o.
*Bedroom MIA
Honourable mention
Company name: DREVBYT Ing. Peter Palatinus
*Modena